Trending
Arnab Goswami paid Partho Dasgupta $12,000 and Rs 40 lakh to fix ratings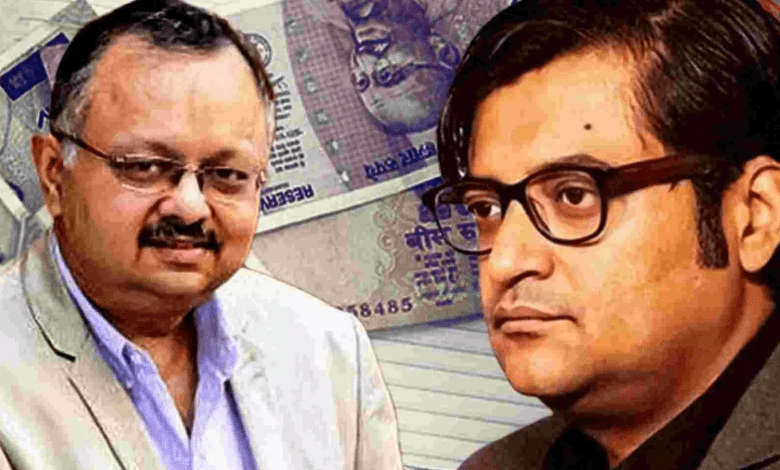 Republic TV chief Arnab Goswami paid me Rs 40 lakh to fix TRP ratings: Partho Dasgupta to Mumbai Police
In a handwritten statement to the Mumbai Police, the former CEO of the Broadcast Audience Research Council (BARC) India, Partho Dasgupta, stated that he received US$12,000 from Republic TV Editor-in-Chief Arnab Goswami for two separate holidays and a total of Rs 40 lakh over three years in return for manipulating ratings for the news channel, according to the supplementary charge sheet filed. A BARC forensic audit report, WhatsApp chats reportedly between Dasgupta and Goswami, and statements of 59 individuals, including former council employees and cable operators, are also included in the 3,600-page supplementary charge sheet, filed by Mumbai Police on January 11. Several news channels are named in the audit report, including Republic, Times Now, and Aaj Tak. It mentions examples of suspected manipulation by BARC's top executives as well as "pre-fixing" of ratings.
Against Dasgupta, former BARC COO Romil Ramgarhia, and Republic Media Network CEO Vikas Khanchandani, the supplementary charge sheet was filed. In November 2020, the first charge sheet was filed against 12 individuals.
According to the second charge sheet, on December 27, 2020, at 5.15 pm, in the presence of two witnesses, Dasgupta's statement was registered in the office of the Crime Intelligence Unit. The sentence by Dasgupta reads: "I have known Arnab Goswami since 2004." We used to work at Times Now together. In 2013, I joined BARC as CEO. In 2017, Arnab Goswami launched The Republic. He would talk to me about launch plans even before launching Republic TV and implicitly hint at helping him get good ratings on his channel. Goswami was well aware of the fact that I know how the TRP system operates. In the future, he even pointed to helping me out.
"I worked with my team to ensure the manipulation of the TRP ratings that brought the number 1 rating to Republic TV. This was expected to run from 2017 to 2019. In 2017, Arnab Goswami met me personally at the St Regis hotel in Lower Parel and gave me $6,000 cash for my family trip to France and Switzerland… Arnab Goswami also met me personally at St Regis in 2019 and gave me $6,000 for my family trip to Sweden and Denmark. Goswami also met me personally at the ITC Parel hotel in 2017 and gave me Rs 20 lakh cash… also in 2018 and 2019… Goswami met me at the ITC Parel hotel and gave me Rs 10 lakh every time…"
Arjun Singh, Dasgupta's lawyer, said: "We completely reject this claim because the statement would have been reported under pressure". "In the court of law, it has no evidentiary value." A member of Goswami's legal team refused to comment when approached. Goswami consistently denied any misconduct and alleged that he was harassed. The charge sheet also includes the audit report of BARC, dated July 24, 2020, which states that evidence "indicated favoritism shown to few outlets" and "we believe the ratings have been pre-decided in some instances".
For example, the study mentions Times Now's alleged suppression of viewership to raise the weekly rankings of the Republic and highlights a purported conversation on "pre-fixing" the ratings of Aaj Tak between BARC's top executives and a senior marketing executive of India Today Group. "The report notes that one of the reasons provided by the council for adjusting Times Now's viewership data is to compensate for "outlier" data, which is intended to recognize spikes in viewership due to the channel becoming the "landing page" on some distributors, with many emails and messages between BARC officials attached as annexes.
The Telecom Regulatory Authority of India has prohibited the practice of putting a channel on the "landing page." The course, however, was set aside by the Settlement of Telecom Disputes and the Appellate Tribunal, and the matter is now before the Supreme Court. Acquisory Risk Consultancy performed the audit. The audit report's executive summary states that "manipulation across the English News Genre and the Telugu News Genre was demonstrated in 2017, 18 and 19."
The study notes that between 2018 and 2019, six top BARC executives at the time were involved in "manipulation of ratings and violation of the code of ethics," including Dasgupta, Ramgarhia, Venkat Sujit Samrat, Head of Goods (South), West Rushab Mehta, Pekham Basu, Vice President of Marketing, and Manashi Kumar, Chief People Officer and Strategy.
In October 2019, Sunil Lulla succeeded Dasgupta as CEO. The supplementary charge sheet includes a statement by a BARC official claiming that in "February 2020, Sunil Lulla told me that there were allegations of media industry TRP rating manipulation" against Dasgupta, Ramgarhia, Mehta, Samrat, Kumar, and AVP Pekham Basu. The supplementary charge sheet includes a statement by a BARC official claiming. The official notes that in "the first week of June 2020, I took the backup of the suspected individuals' emails from the server on a hard drive and gave Ramgarhia's laptop to the auditing agency in the last week of June."
The police have not charged Mehta, Samrat, Kumar, and Basu. The audit report was submitted to the Mumbai Police in December, two months after the FIR in the TRP case was reported. Any of the cases cited in the study point to changed ratings that resulted in the top channel in English news from 2017 becoming the Republic. For weeks in which Times Now's data and ratings have decreased, it cites emails and messages as evidence, giving Republic the edge.
"Mehta wrote to Ramgarhia on June 18, 2017, the report states: "As needed, Times Now numbers are modified, while the Republic is kept the same. "This indicates that the senior management wanted Republic TV to be number 1, according to the report, and the team was working to accomplish this goal."
Conversations between BARC executives and a top marketing executive of India Today Group, in 2016, pointed to "pre-fixing" the ratings for Aaj Tak, according to the audit report. The study cites "chat message conversations between Romil, Partho, and external channel officials, suggesting during our analysis that the channel ratings are pre-fixed."
"BARC said in an email when contacted: "Since the matter is the subject of an ongoing investigation by the various law enforcement authorities, we are limited to responding to your inquiries. In a statement, the Republic said that "there has been a collusion between corporate and political interests to target" Goswami. "The aim of this collusion, which is the result of commercial, political, and personal interests, is, quite clearly, to attempt illegally to create prejudice against the Republic Media Network," he said.
The use of landing pages was defended by Times Now, saying that they are "not ruled illegal" and "are simply the most preferred frequency that is sold and purchased by perfectly legal means at a premium." "It stated that the outlier policy was "abused to manually interfere and willfully and intentionally boost channel ranks for favored channels by corrupt BARC officials" and that it is "contemplating legal action. The India Today Group did not respond to The Indian Express' queries.
The Indian Express reached out to Mehta, Samrat, Ramgarhia, Kumar, and Basu during Dasgupta's imprisonment. Only Kumar reacted. I had nothing remotely to do with analysis or ratings, as it was a separate team that handled market analytics and data," he said, adding that "slander" was everything else." The charge sheet also contains claims from cable operators that they were asked to screen Republic on two channels in exchange for cash to raise its TRP. Two operators said they were asked to receive Rs 11,800 vouchers each.
Statement from Times Now
"Times Network only uses bonafide and legally sound means of doing its business. We do not indulge in BARC officials being panel-tampered or bribed, which are common cheating practices followed by unscrupulous actors. TRP figures are based on 2 factors: platform scope and time spent on the channel by the audience (TSV). TSV depends on the story-telling content strategy, style, and quality. Reach relies on the effectiveness of delivery and the ability to see (OTS). There are land laws that restrict delivery, and landing pages are not ruled as illegal according to them. Landing pages are actually the most preferred frequency, which by perfectly legal means is sold and purchased at a premium. It's the same as the tactic of FMCG firms to gain the best shelf space for greater exposure in supermarkets. Or advertisers that put advertisements for maximum exposure on the front page of newspapers. This is open to all and is not accomplished by any underhand transactions. With the best in class inputs, like Landing Pages, Times Network has optimized its product, brand, and distribution at a high cost to deliver its channels to maximum viewers. It is also worth noting that, in terms of commercial reach, such viewers are true and genuine and the advertiser gets the viewership he has paid for".
BARC's Outlier Policy on Filtering Landing Pages is a controversial problem as this is not Spurious Scope. It is important to note that only on Sept 03, 2020, was the Landing Page Filtration Algorithm officially revealed by BARC after Times Network challenged this in the Bombay High Court and the matter is sub-judice as of date. For the period May 2017 to March 2018, the 44-week Forensic audit is for when no such Outlier Policy was in effect and BARC had no mandate to withdraw bonafide scope from landing pages. A mechanism provided by the BARC Technical Committee to eliminate statistically significant anomalies, mostly abnormal TSV from unlikely homes or spikes in data that do not reflect the logical true image, is the outlier policy or moderation policy. The Outlier Policy is the main rule that crooked BARC officials have exploited in order to interfere manually and willfully and intentionally boost channel ranks for preferred channels.