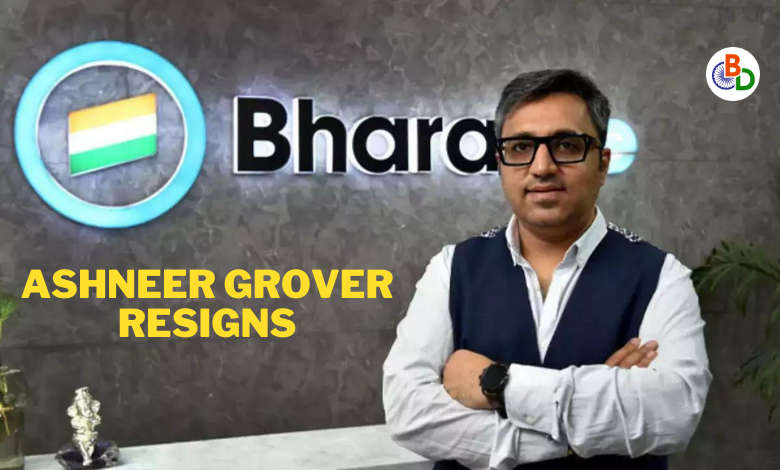 "I am being forced to bid adieu to a company of which I am a founder," says Ashneer Grover
Days after Madhuri Jain Grover(wife of Ashneer Grover) gets fired as head of controls over suspicions of money misuse, Ashneer Grover resigns as MD and director. Ashneer has been at odds with the board of fintech BharatPe
Ashneer Grover stated in his letter of resignation to the board: "I'm writing this with a heavy heart since I'm being forced to leave a firm that I founded today. With my head held high, I declare that this company is now a leader in the fintech industry. Unfortunately, since the beginning of 2022, I've been the target of a few individuals who are willing to hurt not only me and my reputation, but also the company's reputation, which they claim to be protecting."
The news comes days after Moneycontrol revealed that the Singapore International Arbitration Centre had rejected BharatPe co-founder Grover's emergency arbitration request, disputing the firm's intention to conduct a governance review (SIAC).
In an interview with Moneycontrol, Grover questioned the board's intention to initiate a governance review.
"My query to the board is as follows. Why did a governance review become necessary in the first place? "

Statement by Ashneer Grover
Grover also raised concerns about media leaks when portions of Alvarez and Marsal's audit report circulated on social media.
Grover wrote in his resignation letter: "I've gone from being hailed as the face of Indian entrepreneurship and encouragement to Indian youth to start their own enterprises to squandering my time fighting my own investors and management. Unfortunately, the management has lost sight of what is really at issue – BharatPe – in this war."
BharatPe announced on January 28 that it had hired Alvarez to conduct a governance review of the company. The following week, the company disclosed that it had also hired PwC.
Moneycontrol also claimed that bringing PwC on board after hiring Alvarez was a step toward terminating the employment of Madhuri Jain Grover and Ashneer Grover, as their dismissal can only occur when a report from a Big 4 audit firm indicts them.
Inconsistencies in contacts with vendors were discovered, according to a preliminary assessment completed by Alvarez in January. Payments to vendors and consultants that were not made, but were flagged in the report.
At the troubled fintech BharatPe, accusations and counter-accusations have become the new normal. The company accused Ashneer Grover of spreading false information, which it says is inappropriate for a managing director. Shortly after, he launched an attack on the chairman of the board of directors Rajnish Kumar and co-founder Bhavik Koladiya, alleging the governance review was riddled with prejudice.
"You have been distributing false and accusatory material about the company's senior management to the family members and/or spouses of the said senior management members. Such heinous behaviour on your side is entirely unjustified, and the company strongly opposes it. You are once again being asked to stop disseminating incorrect and provocative information against members of the company's senior management. Your behaviour in this regard is entirely unworthy of a company's managing director. "On February 22, the firm responded to Grover's email with a letter.
According to the firm, Grover allegedly reached out to the wives of those under investigation. Although it did not explain the information–it was referring.
I am now wasting myself fighting a long, lonely battle against my own investors and management.- GROVER

Ashneer Grover
However, after accusing Kumar, a banking veteran and former chairman of SBI, Grover claimed to be biased and prejudiced. He added that Koladiya had phoned him for a meeting and was hostile with him during a verbal chat over the phone and that he reserves the right to take necessary legal action.
While the firm has accepted Grover's call with Koladiya, it has denied Grover's assertion that it took place at Kumar's home. BharatPe said that the audio recording he released does not correspond to the corporation's "official contact" with him, calling it a personal chat between Koladiya and Grover.
Grover had taken a leave of absence until the end of March due to anger over his aggressive language toward a Kotak employee, BharatPe's unhealthy culture, and bold behaviour. Following Grover's footsteps, his wife took a leave of absence too.
For sites like PayTM, PhonePe, and GooglePay, BharatPe has been a fierce competitor in the UPI industry. His resignation came just days after his wife, Madhuri Jain Grover, accused senior management of being unprofessional and was fired from her position as head of controls.
The internet is scrambling to process this knowledge, and social media is awash with memes and advice for the guy.
Ashneer had previously taken a leave of absence when an audio recording surfaced of him scolding a Kotak employee for missing the Nykaa IPO allotment. While his followers may be surprised by his resignation, it's clear that he made a planned action after determining the best outcome for his situation.