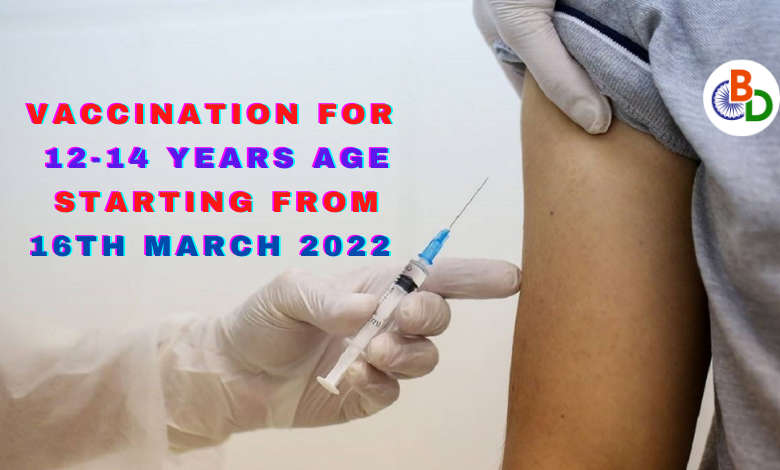 India to Start vaccination for 12-14 years from tomorrow i.e Wednesday 16th March 2022 (National Vaccination Day). Vaccination will be available free of cost at all Government Vaccination Centres.
After several meeting and discussions in last few months, Centre finally decided to expand the vaccination programme to cover additional 6 crore plus children.
VACCINATION AGE GROUP AND STARTING FROM ?
Those who are born in 2008, 2009 and 2010, 12-14 years will be eligible for vaccination from tomorrow i.e Wednesday 16th March 2022, decided by Union Government, announced by Health Minister.
VACCINATION PRICE AND OTHER DETAILS
According to the announcement made by Government, Corbevax, a vaccine developed by Hyderabad-based Biological E Limited, will be used to vaccinate 12-14-year-olds in India. Vaccine has been approved for a booster dose, but in case of children from 12-14 age group only two dose vaccination will be done.
Coming to the price of Vaccine:
GOVT VACCINATION CENTRES: Under Government's Immunization Programme it will be free of cost if it is available at Government Vaccine Centres.
PRIVATE VACCINATION CENTRES: Corbevax, a vaccine developed by Hyderabad-based Biological E Limited will be available at Rs 145 per dose. No of days between 1st and 2nd dose is set as 28days, which means 2nd dose can be taken after 28days of 1st dose.
IS THIS DOSE SAFE ?
Formal approval passed by The Drugs Controller General of India (DCGI) last month for emergency use of vaccine for youngsters aged 12 to 18 years
Experts have expressed reservations about the vaccine's efficacy and safety data, which are not publicly available. The vaccine's manufacturer has also just submitted an application to the DCGI to vaccinate children aged 5 to 12. Meanwhile, data from a Phase 3 trial involving 12-year-olds has yet to be released.
How to get Vaccine for 12-14 years age group:
The process is the same as before. One can go through online registration which is going to start from tomorrow (16th March 2022) morning at 9:00 AM or through on site walk-in.
Government Plans and Road map
A day after the Supreme Court ordered the government to present a road map of projected jab availability through the end of the year, the Centre placed orders worth Rs 1,500 crore as advance payment to Biological E to make 30 crore doses of the Covid-19 vaccine.
"It should be highlighted that the Covid-19 vaccine is already being provided to those above the age of 14 as part of the ongoing vaccination programme. Covaxin is given to people between the ages of 15 and 17 "a statement from the government said.
Booster Dose for everyone above 60
Another significant step, the Centre has removed the need of co-morbidity for everyone above the age of 60, making them eligible for boosters as of Wednesday.
In anticipation of parents wanting to vaccinate their children, children's hospitals across India have begun stockpiling up on the vaccine.
This vaccination is nearly half the price of the current ones. It is a very cost-effective vaccine for youngsters to get intramuscularly."

Dr. Naveen Prakash Gupta, a prominent physician in the Neonatology Department at Delhi's Madhukar Rainbow Children's Hospital