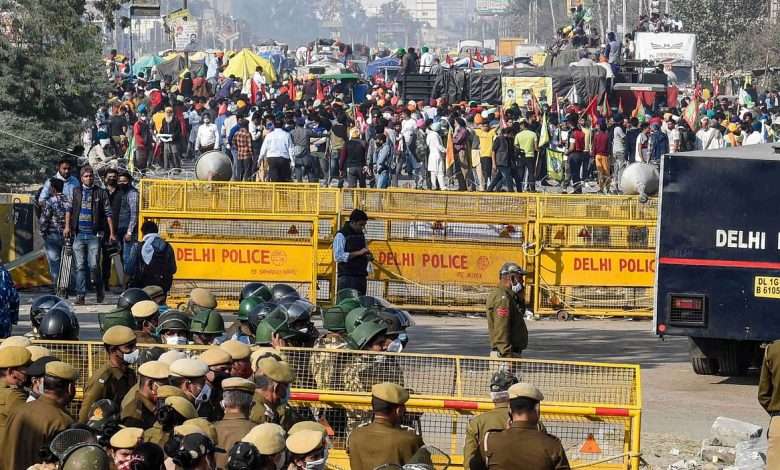 Protesters break barricade, attack police personnel and vandalise police vehicle at ITO in central Delhi
NEW DELHI: Thousands of farmers protesting the controversial farm laws broke police barricades and on Tuesday clashed with police at several locations in the national capital as they made their way inside the city to carry out the planned Republic Day tractor rally. Protesting farmers entered the complex of the Red Fort and tried to lift the flag from the monument's ramparts.
Gates of several Metro stations closed
Samaypur Badli, Rohini Sector 18/19, Haiderpur Badli Mor, Jahangir Puri, Adarsh Nagar, Azadpur, Model Town, GTB Nagar, Vishwavidyalaya, Vidhan Sabha, and Civil Lines' entrance/exit gates are closed. Indraprastha metro station entrance/exit gates and all stations on the Green Line are closed, linking to the Delhi Metro Rail Company.
Protesters cross Delhi borders to enter the city
Many farmers rode tractors, motorcycles, horses and even cranes chanting 'rang de basanti' and 'jai jawan jai kisan' to cross the boundaries of the national capital into the city.
Locals stood at different positions on both sides of the tracks, showering flower petals amid drum beats on the farmers.
The demonstrators danced to the tune of patriotic songs such as 'Aisa desh hai mera' and 'Sare jahan ke achcha' while standing atop vehicles covered with flags.
Protesters break barricade, clash with cops
At several locations in Delhi, protesting farmers broke down barricades and clashed with security forces as they tried to make their way into the city.
The demonstrators smashed police barricades at the ITO, vandalized DTC applications parked as barricades in the middle of the road, and clashed with security personnel in front of the police headquarters. At the Karnal bypass and Tikri border, protesters also broke barricades.
The rally is going peacefully, says union leader
The rally is going on peacefully. I have no knowledge of it. We are in Ghazipur and are releasing the traffic here, "The rally is going on peacefully. I don't have any knowledge of it. We are at Ghazipur and are releasing the traffic here," said Rakesh Tikait, spokesperson, Bharatiya Kisan Union when asked about incidents of violence at some locations, during the tractor rally.
Security tightened in Delhi in view of farmer leaders' rally
With police barricades installed at various important places in the area, including ITO, Yamuna Bridge, and other locations, security was tightened in the national capital. This was done in view of the planned rally of tractors called on Republic Day by the farmers' unions against the newly enacted central farm legislation. Reports also state that Internet services have been stopped till 12 AM in Delhi.