From May 26, Would India Prohibit The Use Of Whatsapp, Facebook, And Twitter? It's Improbable, But It's Not Impossible.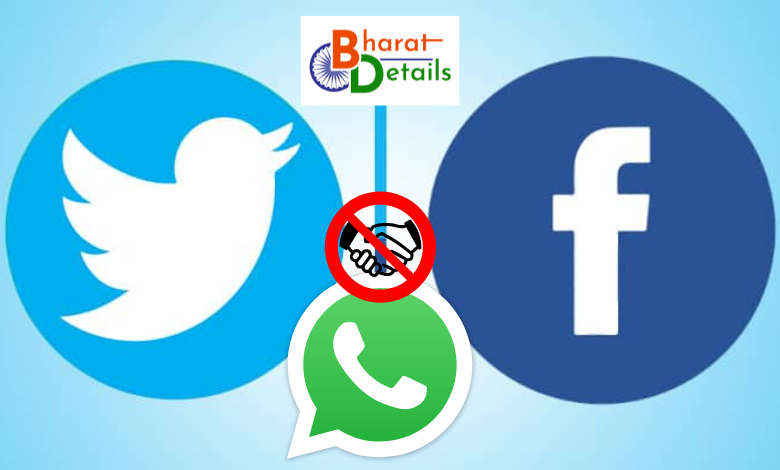 Three months ago, the Central government rapidly issued a new set of IT guidelines in response to a Twitter dare. These restrictions are broad, providing the government vast control over any corporation dealing with information or material in India. The new restrictions apply to almost all internet companies, including social media networks, messaging services, news organisations, and even streaming services like Netflix. The deadline to comply with the new rules, which is tonight, has passed. In other words, one more day and firms like Twitter, Facebook, Instagram, and WhatsApp are in for a major headache.
But first, let's address the major question: Will Twitter, Facebook, Instagram, and WhatsApp be banned in India as of tomorrow, May 26? It's really unlikely. However, they will always be at risk of serious government action if they do not follow the new standards.
To make sense of it all, let's take a look at what the government is requesting.
The government is attempting to impose a number of new restrictions and regulatory obligations on social media businesses. However, there are a few noteworthy examples:
Big IT businesses, dubbed "major social media" by the government, must have a chief compliance officer in India who can respond to government demands and needs at any time. For example, if the government requests User A's data from Twitter and the demand is legally acceptable, this compliance officer will be in charge of providing the information.
The IT corporations have also been requested to recruit a nodal officer who will work with law enforcement authorities 24 hours a day, seven days a week, and whenever the government demands it.
The social media businesses have been ordered to hire a grievance redressal officer, who users will be able to contact with any issues they may have.
Finally, businesses such as WhatsApp have been required to ensure that messages can be traced back to the sender. This effectively entails bypassing or subverting communication end-to-end encryption. For a service like WhatsApp, complying with such a request is extremely difficult, if not impossible.
There are other rules, but the majority of them entail technological and policy modifications that tech businesses must execute. The four requirements listed above, on the other hand, are more important. Companies have three months to comply with the restrictions, according to the government, which released them on February 25. This deadline will be met tonight.
The real question now is what will happen next. Is Netflix going to be banned in India? Will the Indian government order WhatsApp to leave the country and stop the app? Will Twitter be prosecuted?
Most major tech firms have yet to comply with the new It regulations. Netflix, on the other hand, has done it. Other streaming services have done the same thing. "We want to comply with the provisions of the IT rules and continue to explore a few of the topics that require additional engagement with the government," Facebook, which also owns WhatsApp and Instagram, said.
But what if they refuse or are unable to comply? Apart from a cryptic mention in its rules, the government hasn't said much. It reads as follows:
"Where an intermediary violates these regulations, the provisions of sub-section (1) of section 79 of the Act shall not apply to such intermediary, and such intermediary shall be liable to penalty under any legislation in force at the time, including the provisions of the Act and the Indian Penal Code."
What exactly does this imply?
To grasp this, we must first comprehend Section 79, sub-section (1) of the IT Act. This section of the IT Act protects social media businesses and web services by classifying them as "intermediaries." This implies they are not liable for any user-generated content.
So, if Twitter, Facebook, Google, WhatsApp, or any other social media business does not comply with the new guidelines, they will lose the protection that "intermediaries" receive under the IT Act. They can be taken into court and prosecuted under the applicable laws after they lose this protection.
To put it another way, the procedures for enforcing the regulations, like the new intermediate rules, are fairly wide and ambiguous.
What does all of this imply for users?
In the short term, there isn't much to look forward to. Twitter will continue to operate in India tomorrow, whether it is able to comply with the new restrictions tonight or not. The same goes for WhatsApp, Facebook, Netflix, Instagram, and any other service.
However, if these services do not follow government rules, they will continue to operate only until the government takes action against them. If the government takes action against them, it is doubtful that the services will be disrupted. It is more likely to adopt other punitive actions instead.
A fine, for example, could be imposed by the government. Alternatively, it may prevent these corporations from doing business in India. When Turkey requested social media companies to establish a compliance officer similar to the one India is seeking, the Turkish government blocked social media companies from selling adverts in Turkey if they did not comply.
However, in the long run, there could be various potential consequences for Indian internet consumers. In the long run, the restrictions may make platforms like Twitter and WhatsApp less private, reducing users' anonymity and making them more vulnerable to surveillance.
But don't worry about May 26: tweets will continue to flow tomorrow, and WhatsApp good morning greetings will continue to arrive.