How a cancer survivor came up with the idea for this wellness company in Vadodara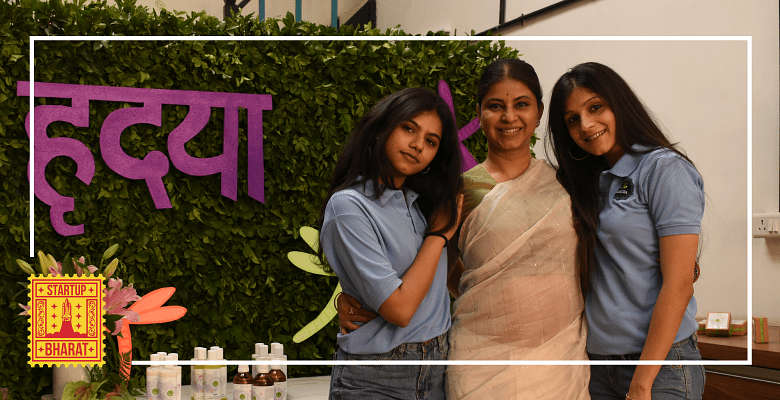 Anahata, a wellness startup based in Vadodara, manufactures and sells skincare and food products. Women make up 70% of the company's employees.
Radhika Iyer Talati was diagnosed with first-stage breast cancer nearly 12 years ago, followed by uterine cancer. Although she initially followed the traditional course of allopathic medicine and treatment, she soon realized she needed a full lifestyle overhaul. She dabbled in herbal medicine, Ayurveda, and meditation.
"At the time, my naturopathic doctor advised that I take a trip to a particular location in the Himalayas to explore natural treatments for cancer recovery. "That was a watershed moment in my life," Radhika says. In 2010, she founded the Raa Foundation, which focuses on yoga and healthy living.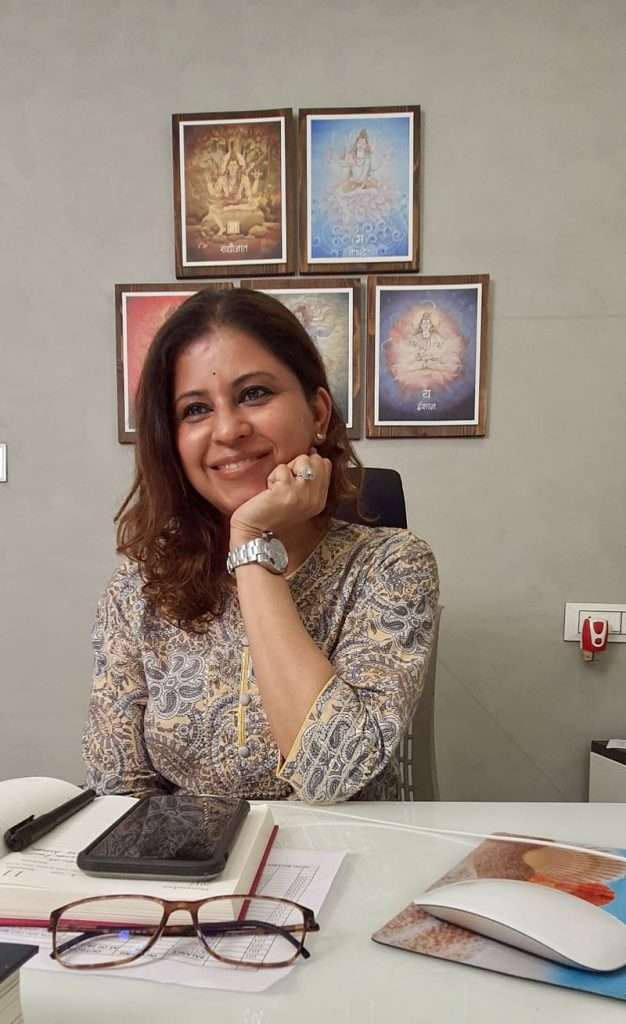 In 2019, she decided to start a food-based startup named Anahata, which is focused on health and wellness, after seeing the need and desires of people moving towards an organic and sustainable lifestyle.
"The Vedas and the Puranas mention Anahata or the 'Heart Chakra,' which is present in all of us and epitomizes balance, serenity, and compassion — a motto we follow to make a deliberate effort to inculcate in our brand as a whole," Radhika says of the brand name.
The 11-year journey from conception to start up
Anahata produces chemical-free, handcrafted goods. In reality, some of her recipes are inspired by her 11-year journey through the Himalayas, where she met sages, travelers, yogis, international students, locals, and a variety of other people who shared their recipes with her.
She's been creating these meals for her family and friends on a small scale for 11 years, and she's seen her health and physique develop firsthand.
"The COVID-19 pandemic strengthened my resolve in starting Anahata. I saw the dearth of real, genuine organic products in the market that is true to our culture, environment, and body type (genetics). A lot of these things are not reflected in most Indian brands. That pushed me to start on a large scale and establish Anahata as a corporate brand," Radhika stated.
Also Read: Alert! These 7 Banks Cheque Books Will Become Invalid From April 1st.
Creation of the products
Small growers, women entrepreneurs, and local businesses profit from the startup's manufacturing operation. While the product formulations are curated in the Himalayas, the DIY recipes are passed down in handwritten books and manuscripts from generation to generation.
Anahata started producing the goods in September 2020, but it is still looking for new ways to expand.
Furthermore, the challenges of implementing internal processes, recruiting a committed team, figuring out day-to-day management, obtaining orders, and building a customer base were important.
"We take pride in being an organic and ethical organization, and we plan to continue to support this mission for as long as we can. We recruit people with the intention of keeping them on for the long haul. We believe that it is the people who make the difference, and we take pride in the fact that we prioritize people over income. "However, finding people who are committed not only to the brand but also to the overall cause has been a challenge," Radhika says.
The organization has expanded its online presence organically, without the use of paid promotions or advertising, in order to draw early consumers who have become core members.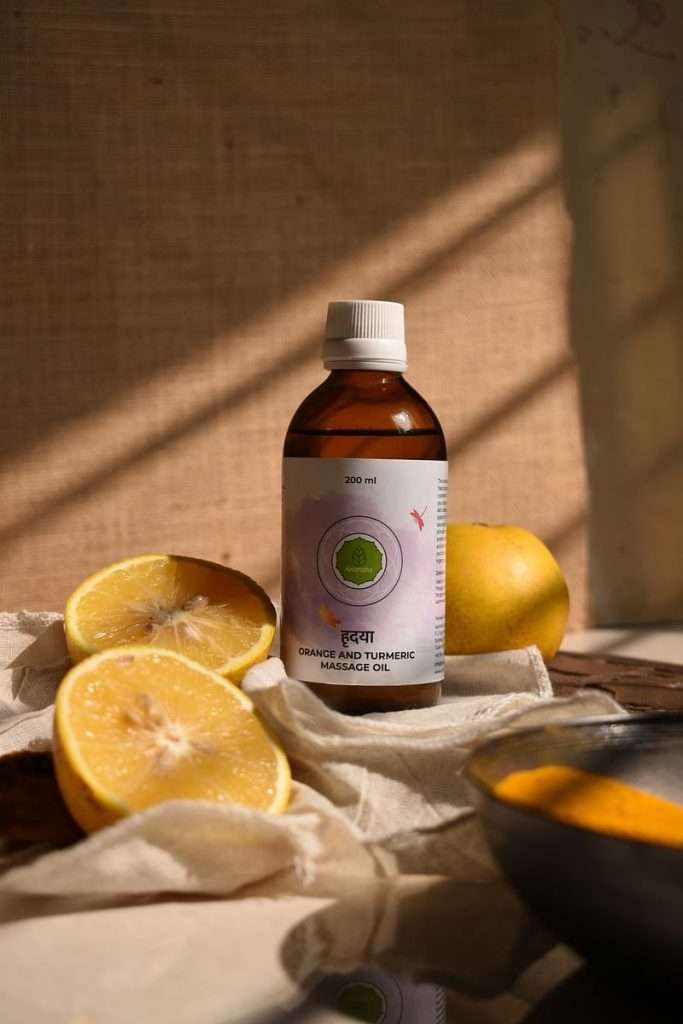 Getting started
The company's three core values are to create a community, maintain a sustainable manufacturing process, and invest in the right people.
"Even if it is slightly more expensive, we have made the deliberate decision to use plastic-free packaging, instead opting for glass, tin, and recycled products. "As a group, we have chosen to employ people rather than overly automate our processes," Radhika says.
Anahata has partnered with a number of brands, designers, bloggers, and artists to raise awareness about living organically.
The startup currently has a team of 24 members. Around 70% of the production team is made up of local women who come from low-income families in Vadodara and other parts of Gujarat.
"As an organization, we believe in not only empowering more women but also in creating communities that help other women and children improve their lives. Our team consists of individuals ranging in age from 19 to 34 years old. "Our vendors are mostly small-scale organic farmers from all over the country, local artists who hand paint our boxes and hampers, and other entrepreneurs looking to collaborate and create a community," Radhika explains.
Radhika put Rs 8 crore of her own money into the bootstrapped business. She believes that social media helps eCommerce companies like Flipkart and Amazon gain much-needed attention.
"For our beauty and skincare goods, we're onboarding on platforms like Brown Living, Vanity Wagon, and Wedding Brigade, and for our food, we're onboarding on Farsan Kart. These channels cater to a very particular audience, and we're hoping that they will help us expand quickly," Radhika says.
Navel serum, Kumkumadi Thailam, Aloe-vera gel, rose cream, rose water, and acne fighter is some of Anahata's best-selling products. Salts, oils, flours, etc are among the company's food products.
These range in price from Rs 250 to Rs 500. Perineal, Inox, Tanishq, and other companies are among its corporate clients.
Currently, the startup claims to be growing at a rate of 15 to 20% per year. In reality, it sold Rs 3 lakh in the first three months of its release. Anahata competes with Vilvah, a vegan cosmetics brand based in Coimbatore, Plum, a vegan cosmetics brand based in Mumbai, and Disguise, an online vegan cosmetics brand.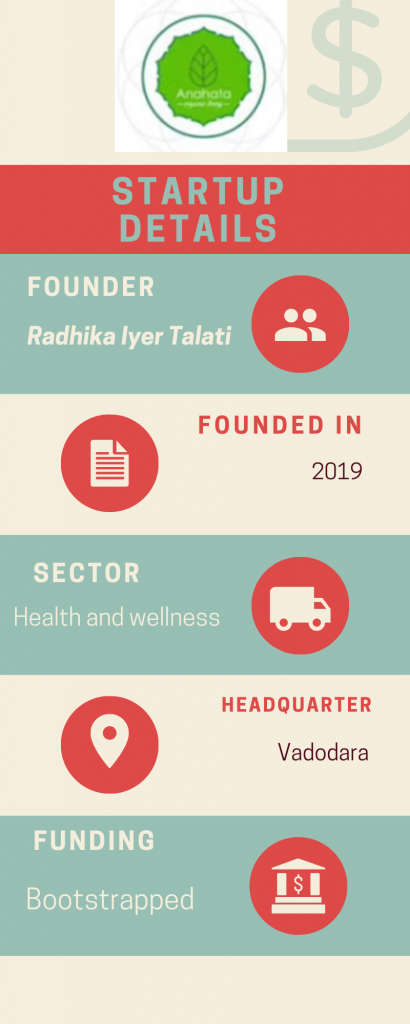 The demand and the expectations
The Indian beauty market is valued at around $7 billion, according to RedSeer, and is growing at a healthy double-digit pace.
"A new brand faces various obstacles in gaining market share, including existing brands, price competition (due to low volume, manufacturing costs are initially much higher), R&D expenditures, trials and tests, and so on. At the same time, high branding/promotional expenses can make it difficult to get through the early stages. As a result, keeping all things in check and moving is a challenge, but we were able to effectively address almost every aspect," Radhika explains.
Anahata plans to reach the export market through eCommerce sites first, and then through channel stores.
Herbal and organic beauty products, especially skincare from India, are in high demand worldwide. The UAE, the United States, the United Kingdom, the Netherlands, Germany, Japan, Russia, France, and Italy are among the largest importers of herbal cosmetics and skin care products from India.