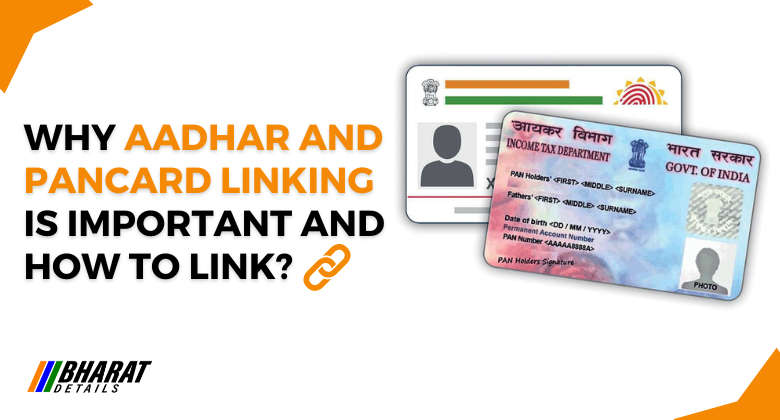 Why Aadhaar and PAN Card Linking is Important: Steps to Link Your PAN to Aadhaar Card
Aadhaar and PAN card linking has been made mandatory by the Government of India to streamline the process of taxation and reduce fraudulent activities. This move is aimed at ensuring that all citizens' financial transactions are transparent and legitimate.
Why Linking Aadhaar and PAN Card is Important?
Linking Aadhaar and PAN card can help you in several ways. Here are some reasons why it is important to link your Aadhaar card to your PAN card:
Tax Compliance: The linkage between Aadhaar and PAN cards is crucial for tax compliance. By linking the two, the government can track all financial transactions made by an individual, making it easier to monitor their tax payments.
Fraud Prevention: Linking Aadhaar and PAN cards can help prevent fraud and identity theft. It can prevent people from using multiple PAN cards to evade taxes or create fake identities to conduct fraudulent activities.
Government Subsidies: Aadhaar and PAN card linkage is also important for those who receive government subsidies, as it helps to ensure that the benefits reach the intended recipients and prevent any leakages.
Simplified Tax Filing: Linking Aadhaar and PAN cards can make the process of filing taxes simpler and quicker. With the introduction of Aadhaar-based e-filing, taxpayers can file their tax returns from the comfort of their homes without having to go through the tedious process of verifying their identity.
Steps to Link Your PAN to Aadhaar Card
Linking your PAN (Permanent Account Number) to Aadhaar card is mandatory as per the Income Tax Department of India. Here are the steps to link your PAN to Aadhaar card:
Visit the Income Tax e-filing portal at www.incometaxindiaefiling.gov.in
Click on the "Link Aadhaar" option under the "Quick Links" section on the left side of the screen.
Enter your PAN and Aadhaar number in the respective fields.
Enter your name as mentioned in the Aadhaar card.
If the only birth year is mentioned on your Aadhaar card, tick the square box.
Enter the captcha code as shown on the screen and click on "Link Aadhaar" button.
Once the details are matched, a message will be displayed that your PAN is successfully linked to Aadhaar.
Also read | 10 Foolproof Strategies To Skyrocket Your Instagram Followers
Alternatively, you can link your PAN to Aadhaar by sending an SMS to either 567678 or 56161 in the following format:
UIDPAN<12-digit Aadhaar number><10-digit PAN>
For example, if your Aadhaar number is 123456789012 and your PAN is ABCDE1234F, then you need to send the following SMS:
UIDPAN 123456789012 ABCDE1234F
Note that the last date to link your PAN with Aadhaar is 30th June 2023, failing to which your PAN may become invalid.