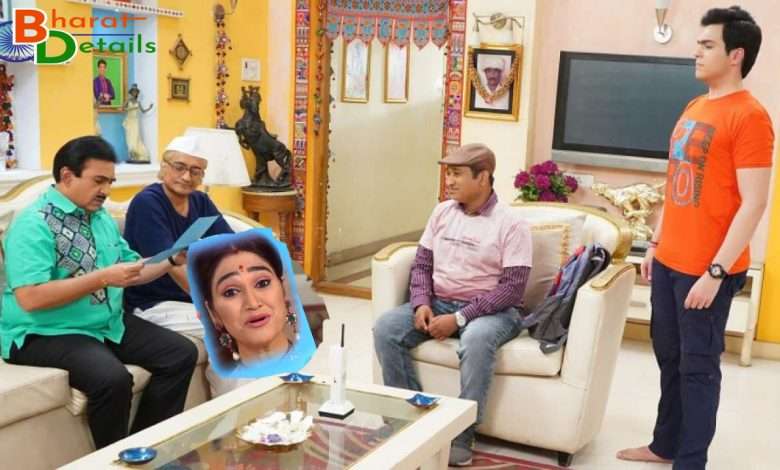 A letter with Daya's Voice and Video in Taarak Mehta Ka Ooltah Chashmah has many questions in which most importantly is, Is Daya going to return Taarak Mehta Ka Ooltah Chashmah ?
Recently in a short advertisement of upcoming episode of Taarak Mehta Ka Ooltah Chashmah, Daya aka Disha Vakani was shown in a Video letter. TMKOC viewers are very soon going to see Daya after almost 3years in a video letter. Scene is like, Jethalal's Brother in Law "Sunderlal" will visit Gokuldham Society and will surprise Jethalal by dropping himself with Baka and Bhailu at Jethalal's home without any prior Notice.
Lots of activities like Playing Garba and Dancing activities are to be carried on by Sunderlal and his friends at Jethalal's Home. Jethalal gets worried after Sunderlal's surprise visit, because as per his past experiences whenever Sunderlal visit his place he has to pay him in anysense.
Jethalal starts questioning indirectly and manages to ask Sunderlal, reason of coming Mumbai? as he is worried that definitely Sunderlal's visit will be somehow lead him pay in anysense. Sunderlal informs Jethalal about his new Real Estate Business, which again raised a question in Jethalal's mind that how is this news going to make him pay. After several questions and request by Jethalal to Sunderlal to know the reason behing coming Mumbai, Sunderlal hands over a letter to Jethalal. A letter from Daya makes Jethalal and Family emotional. In a letter Daya promises Jethalal of returning back home very soon. Jethalal gets teary-eyes after reading a letter from Daya (Jethalal's Wife in TMKOC)
Daya aka Disha Vakani is being missed by viewer from TMKOC since September 2017. Initially she was on a maternity leave. Many Questions are raised from last 3 years for her return.
Will Daya return to Taarak Mehta ka Ooltah Chashmah? Hoping Viewer will soon be able to see their favorite actress Disha Vakani in her versatile Character named as "Daya Jethalal Gada"