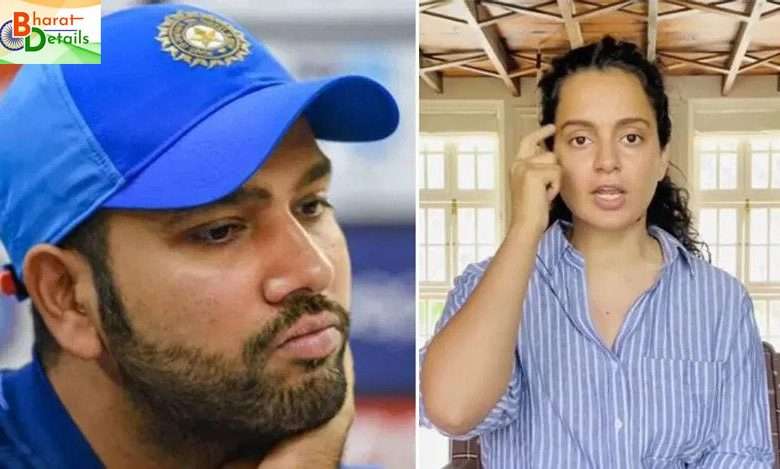 Twitter once again strikes Kangana's account by deleting her Tweets calling Indian Cricketer and former Captain Rohit Sharma and other Cricketers 'Dhobi Ka Kuta Na Ghar Ka Na Ghat Ka'
A very well known Celebrity and a Bollywood actor, Kangana Ranaut is recently known for her controversial statements or in other words her opinions towards what's going on in India. She have been seen violating rules of Twitter for which her tweets are being deleted by Twitter since Morning on Thursday, 04th February 2021.
This incident started after a Tweet from Pop Star Rihanna and Swedish environmental activist Greta Thunberg on Wednesday showed their support for Indian Farmers (Farmers Protest) and also raised voice against interrupted internet service in some areas of Delhi, Capital of India.
Meanwhile many other celebrities and Indian Cricketers also took part into this. In which Rohit Sharma posted a tweet on Twitter:
On the above Tweet from Rohit Sharma supporting Indian Government's decision and arguments with Farmers being internal matter, Kangana Ranaut called Rohit Sharma and other cricketers like him as "Dhobi Ka Kutta Na Ghar Ka Na Ghat Ka"
She also asked "why would Farmers be against law which are revolutionary for their well being. There are terrorists who causing ruckus… say that na itne darr lagta hai?"

In a Tweet by Kangana that got deleted by Twitter for violating twitter policy.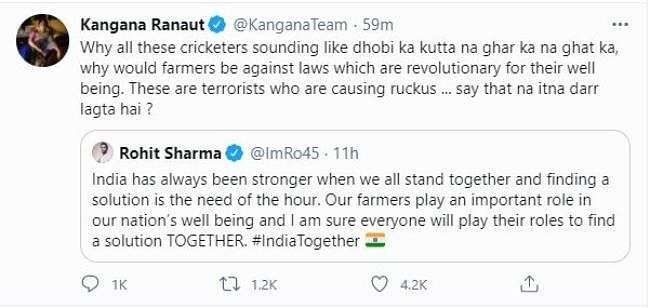 Twitter deleted this tweet from her account informing it violates the rules of Twitter (Can be harmful and Abusive content)

After getting support from internaltional celebs, the Ministry of External Affairs issued a notice in return to the support of internaltional celebs with the term as 'inaccurate and irresponsible' and rolled out 2 hashtags #IndiaTogether and #IndiaAgainst Propoganda.
Once more clarification made is that the facts in India are internal matter and India is more than capable to handle the same, India don't need any external participants.