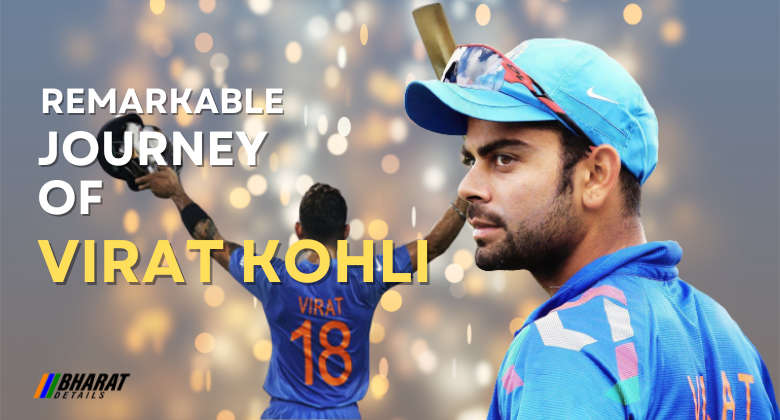 Explore the remarkable journey of Virat Kohli, from his humble beginnings to becoming one of cricket's greatest icons. Discover how his dedication, passion, and talent have shaped his remarkable career.
Highlights:
Kohli shines as undefeated India beat New Zealand at Cricket World Cup
'Pakistan loves you': Why India's Virat Kohli wins hearts across the border
Personal escapade or work of art? Virat Kohli's century divides opinion
Ten players to watch out for at the 2023 ICC Men's Cricket World Cup
Virat Kohli scores 49th ODI century, equals Tendulkar's record
Virat Kohli, the name that reverberates through the cricketing world as a symbol of excellence and determination. From a young boy playing street cricket in Delhi to becoming the captain of the Indian cricket team, Kohli's journey is nothing short of remarkable. This article delves into the life and career of Virat Kohli, tracing his path from humble beginnings to becoming one of the most celebrated cricketers in the world.
Virat Kohli's early Life and Love for Cricket:
He was born on November 5, 1988, in Delhi, India. From a young age, he showed a keen interest in cricket, and his family played a pivotal role in nurturing his passion. His father, Prem Kohli, worked as a lawyer, and his mother, Saroj Kohli, was a housewife. Both his parents supported Virat's love for the sport, and they recognized his potential from a very early age.
Young Kohli started playing cricket in the narrow lanes of West Delhi, just like thousands of other aspiring cricketers in India. His dedication was apparent, and he began receiving formal coaching at a local cricket academy. He joined the West Delhi Cricket Academy and soon started turning heads with his exceptional talent and unwavering commitment to the game.
Virat Kohli's Domestic Cricket and Early Success:
Kohli's first taste of competitive cricket came when he represented Delhi in various age-group tournaments. His performances at the junior levels earned him a spot in the Delhi Under-15 team, where he continued to impress with his batting prowess. By 2006, he had worked his way up to the Under-19 level and had a significant role in India's triumph in the 2008 U-19 Cricket World Cup, where he was the team's highest run-scorer.
His consistent performances in age-group cricket earned him a place in Delhi's senior team, and he made his first-class debut in November 2006 at the tender age of 18. In his debut season, he scored a century against Karnataka and started making a name for himself as a promising young talent.
Virat Kohli's turning Point in the IPL:
One of the key turning points in Virat Kohli's career came with the inception of the Indian Premier League (IPL) in 2008. He was picked up by the Royal Challengers Bangalore (RCB) franchise and went on to become one of the cornerstones of their batting lineup. Kohli's aggressive and dynamic style of play quickly made him a fan favorite, and he consistently delivered strong performances for RCB.
Over the years, Virat Kohli's performances in the IPL not only helped him gain experience but also enhanced his reputation as one of the best limited-overs batsmen in the world. His aggressive captaincy style and leadership qualities were also on display, eventually leading to him being named the captain of RCB in 2013.
Virat Kohli's International Debut and Early Challenges:
His remarkable domestic and IPL performances did not go unnoticed by the national selectors. He made his One-Day International (ODI) debut for India in August 2008, during a tour of Sri Lanka. However, his initial outings in the national team were marked by inconsistency, and he struggled to convert starts into big scores.
Despite the challenges, Kohli was determined to succeed and continued to work on his game. His first century in ODIs came in August 2010 against Sri Lanka, and he soon established himself as a regular in the Indian team. Kohli's ability to chase down targets and play under pressure earned him the nickname "Chase Master."
Test Cricket and Captaincy:
Virat Kohli made his Test debut for India in June 2011 against the West Indies. His performances in the longest format of the game were equally impressive, and he quickly established himself as a mainstay in the Indian batting lineup. He demonstrated his class by adapting to different conditions, be it spin-friendly pitches at home or seaming tracks abroad.
Kohli's journey as a leader began in December 2014 when he was appointed as the captain of the Indian Test team, taking over from Mahendra Singh Dhoni. Under his captaincy, India achieved remarkable success, including a historic series win in Australia in 2018-19. Kohli's aggressive captaincy style and his unwavering commitment to fitness and discipline made a significant impact on the team's performance.
Kohli's ODI Captaincy and Records:
In August 2013, Virat Kohli was appointed as the captain of the Indian ODI team. Under his leadership, the team achieved several milestones. India consistently remained a top ODI side, and Kohli's own performances as a batsman continued to dazzle the cricketing world.
He broke numerous records, including becoming the fastest player to score 8,000, 9,000, and 10,000 runs in ODIs. Kohli's hunger for runs and his unmatched consistency in the format established him as one of the greatest ODI batsmen of all time.
T20I Captaincy and Achievements:
Kohli was appointed the captain of the Indian T20I team in January 2017. In this format too, he led the team with passion and determination. His captaincy was marked by a focus on fitness, aggressive fielding, and tactical acumen.
Under Kohli's captaincy, India reached the final of the ICC T20 World Cup in 2016, although they narrowly missed out on the title. Nevertheless, his leadership in the shortest format of the game further solidified his position as one of the top captains in international cricket.
Kohli hits 49th ODI century, matching Sachin Tendulkars record, during the ICC Cricket World Cup game against South Africa
The former Indian captain, who celebrated his 35th birthday on the day he matched the record, has accumulated a remarkable tally of over 13,000 runs in the ODI format. This milestone was reached after 277 ODI innings, which also featured 70 half-centuries.
Currently, the next batsman in line for the most ODI centuries is the present Indian captain, Rohit Sharma, who boasts 31 centuries to his name.
In the high-stakes encounter, Kohli led the charge as India set a challenging target of 327 runs for South Africa. He demonstrated his class by scoring 101 runs from 127 balls, displaying a tenacious performance on a turning pitch amidst sweltering weather conditions.
The crowd at Eden Gardens erupted with applause as Kohli crossed the 90-run mark, and their excitement only grew as he inched towards his century. When he reached 99, the predominantly Indian audience erupted in joy, with thousands of cameras capturing this iconic moment.
Kohli's Commitment to Fitness:
One of the defining aspects of Virat Kohli's career has been his unwavering commitment to fitness. He transformed his physique and adopted a strict fitness regimen that set new standards for cricketers. His dedication to staying in peak physical condition not only improved his own game but also inspired his teammates to prioritize fitness.
Kohli's fitness journey and discipline were recognized when he was featured on the cover of various fitness magazines. He has also shared his fitness routines and dietary habits with his fans, encouraging them to lead a healthy lifestyle.
Off the Field – Personal Life and Endorsements:
Virat Kohli's personal life has also been under constant media scrutiny. He married Bollywood actress Anushka Sharma in a lavish ceremony in Italy in December 2017, and the couple has since become one of India's most celebrated and followed celebrity pairs. Their relationship has been a source of inspiration for many.
In addition to his cricketing achievements, Kohli is also a successful entrepreneur. He has several brand endorsements, and he has invested in various businesses, including a fitness startup and a fashion brand. His business acumen, combined with his cricketing success, has made him one of the highest-earning athletes globally.
Challenges and Criticisms:
Despite his extraordinary career, Virat Kohli has not been immune to criticism. His aggressive on-field behavior has often sparked debates, and there have been moments when his temperament has led to controversies. Additionally, his performances in ICC tournaments, especially the World Cup, have been scrutinized, as he has not been able to lead India to a global title.
Kohli's captaincy tenure has also faced scrutiny, particularly in Test cricket. The series losses in South Africa and England raised questions about his ability to win overseas Test series. However, his leadership.
As we celebrate the incredible journey of Virat Kohli, make sure to stay connected with us and keep visiting for more exciting news updates, in the world of cricket and beyond. We look forward to sharing more inspiring stories and updates with you.
Thank you for being a part of our journey! 😊