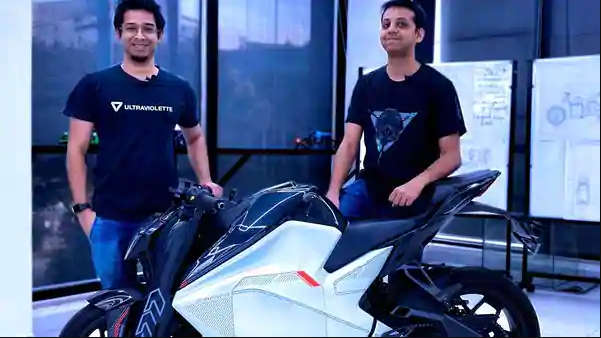 Ultraviolette Automotive, an electric motorcycle startup backed by TVS Motor Company, expects to raise up to $75 million in series B and C rounds in the next 12-14 months, according to three people familiar with the venture.
"The funds raised will be used to put the prototype bikes into production over the next three quarters, scale up operations, expand the team, and further invest in the R&D of in-house developed lithium-ion battery technology," said one of the three, who did not want to be identified.
"Manufacturing electric vehicles is a very capital-intensive industry. This means it's not just about early-stage research and development, growth capital, or international expansion. There are many phases that a business must go through. This is just the beginning for us "Ultraviolette Automotive founder and CTO Niraj Rajmohan declined to reveal specifics of the proposed fundraise.
Ultraviolette is in talks with a number of potential partners who can assist the company beyond its primary financing needs.
In November of last year, the Bangalore-based startup unveiled pre-production models of the first electric motorcycle, the F77. Ultraviolet's founders hope to place the bike as India's first performance-oriented electric motorcycle, with prices ranging from Rs 3-3.25 lakh on-road.
As a result, it is unable to take advantage of government incentives provided under the Fame-2 programme (Faster Adoption and Manufacturing of Hybrid and Electric Vehicles in India). Subsidies are available under Fame 2 for electric two-wheelers that cost less than $150,000.
Because of the pandemic, the commercial launch of F77 has been postponed until mid-next year.
Also Read: Medkart, headquartered in Ahmedabad, aims to lower the medical bills with generic drugs
TVS Motor, led by Venu Srinivasan, increased its stake in Ultraviolette from 25.76 percent to 29.48 percent last month by investing an additional 30 crore as part of the company's series B funding.
Last fiscal, the manufacturer of the Apache motorcycles invested Rs 11 crore in the Bengaluru-based startup, including Rs 5 crore in the latter's preference shares.
According to Rajmohan, the new funding was part of a larger series B round, and the funds will be used for final testing, as well as bringing the bikes into production.
In the first 12 months after its launch, the startup hopes to manufacture and sell 10,000 units of the F77.
The startup's current R&D and assembly set up in Bangalore, according to the founders, would be sufficient to handle the first year's volumes. "I still have other proposals in the works. We'll be looking beyond our current facility as things develop "Rajmohan added.