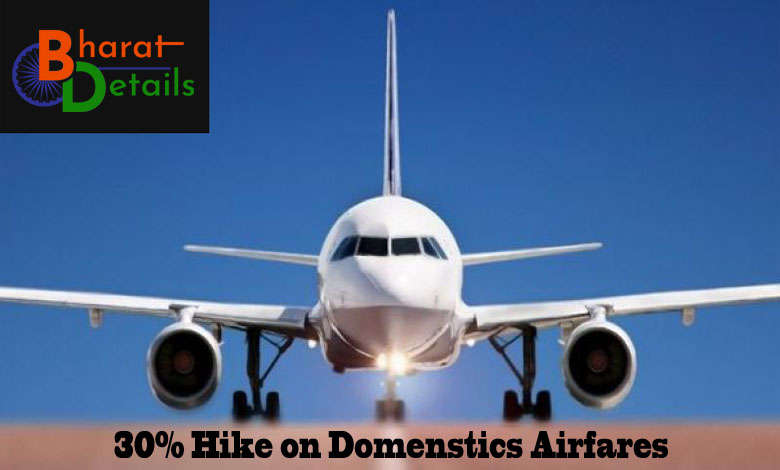 For your flight trip, passengers traveling inside India will now have to pay more. For domestic flights, the government has increased airfare rates by 10-30 percent. The increase in the lower and upper limits of domestic airfare will remain "in force up to March 31, 2021, or until further orders" the civil aviation ministry said on Thursday in its order.
On May 21 last year, flight operations resumed on May 25 after the easing of the national lockdown imposed to monitor the spread of the Covid-19 pandemic in India, airfares were graded on the basis of flight duration through seven bands.
Flights with a travel time of fewer than 40 minutes are included in the first such band. The airfare was increased from Rs 2,000-Rs 6,000 to Rs 2,200-Rs 7,8000 for this band.
The lower and upper Airfare limits have been raised to Rs 2,800-Rs 9,800 from Rs 2,500 – Rs 7,500 for flights with a period of 40-60 minutes.
The airfare has been increased from Rs 3,000-Rs 9,000 to Rs 3,300Rs 11,700 for a 60-90 minute flight ride.
For a flight length of 90-120 minutes, the airfare has gone up from Rs 3,500-Rs 10,000 to Rs 3,900 Rs 13,000.
The old airfare bracket of Rs 4,500-Rs 13,000 was changed to Rs 5,000 Rs 16,900 for the flight journey of 120-150 minutes.
For flights lasting 150-180 minutes and 180-210 minutes, airfares rose from Rs 5,500-Rs 15,700 and Rs 6,500-Rs 18,600 respectively to Rs 6,100-Rs 20,400 and Rs 7,200-Rs 24,200.
By May 2020, the DGCA had ordered airlines to sell at least 40% of their tickets on flights at prices below the midpoint of the lower and upper limits. Back then, the government had requested airlines to operate a maximum of 33% of their domestic pre-Covid-19 flights.
On June 26, the operating limit was raised to 45 per cent a month later, before eventually increasing it to 80 per cent. On Thursday, the civil aviation ministry kept the 80 percent cap in place until March.
ALSO READ | From February 15 | FASTag will be mandatory. Want to know how to check Validity, Recharge or How to Get FASTag for your Car?