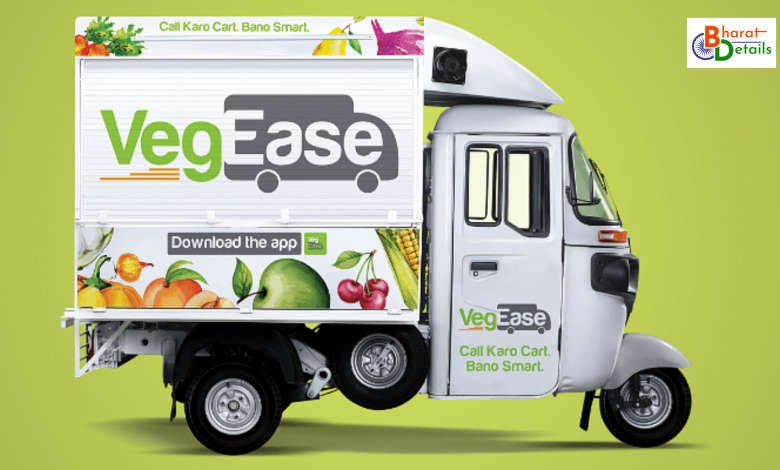 Delhi-based startup VegEase marries technology with tradition to create a new-age grocery buying experience for customers. It looks to expand to 20 cities by the year end.
It goes without saying that the pandemic has altered consumer behavior. After a year of limited movement in physical spaces, purchasing online has become almost second nature.
Also in the food and grocery industry, which has a major offline portion, new purchasing patterns have emerged in the last year. The success of direct-to-consumer (D2C) food brands, as well as the rapid expansion of online grocers, attest to this.
But what if cutting-edge technology could be combined with conventional supermarket shopping practises to provide customers with the best of both worlds?
VegEase is the creation of eGreen Farms, a food retail company based in Delhi that was established in 2018. Mayank Chaurasia, the company's founder, began developing VegEase well before the pandemic began. However, due to the COVID-19 outbreak, its introduction was pushed back. The platform was finally launched in January 2021.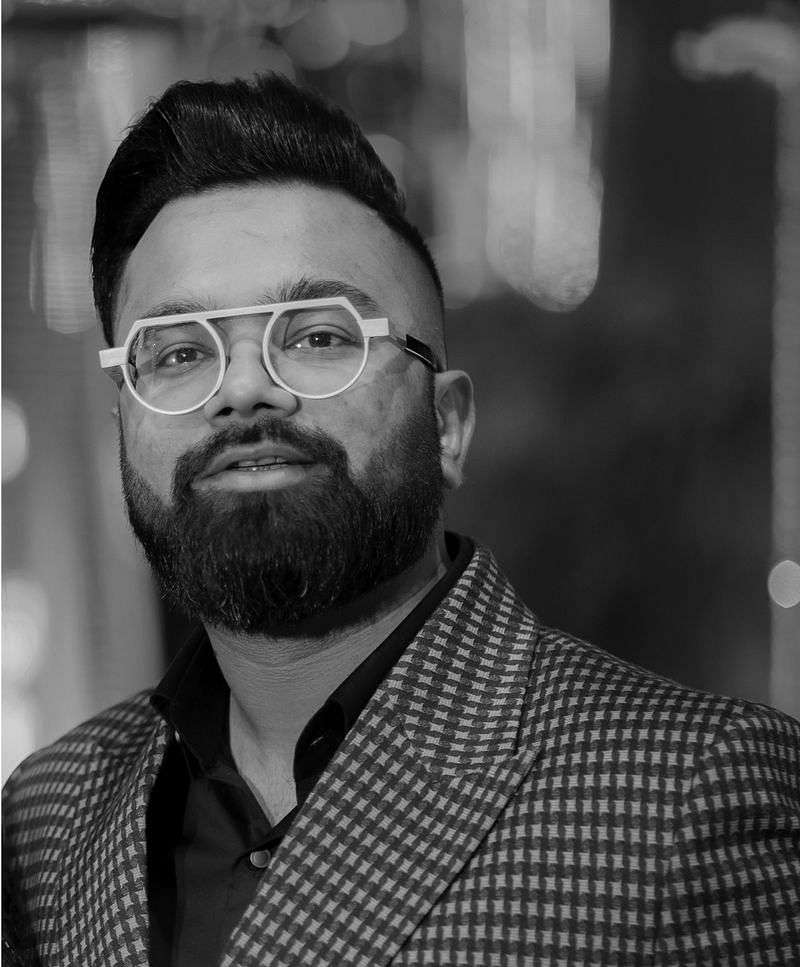 What problems does VegEase solve?
Essentially, VegEase provides a future-ready experience for purchasing farm-fresh fruits and vegetables, in which customers can book a grocery cart on the app (similar to booking a cab), wait for it to arrive at their door, and handpick the best stock themselves.
VegEase employs specialized supply logistics to deliver exclusive carts containing 70-80 SKUs at the customer's defined time slot. The carts are organized by localities/sectors.
Mayank, the company's founder, says:
Unlike other online grocery platforms that require consumers to pre-order products and have them shipped, VegEase allows customers to touch, sound, and handpick the fruits and vegetables at the time of purchase.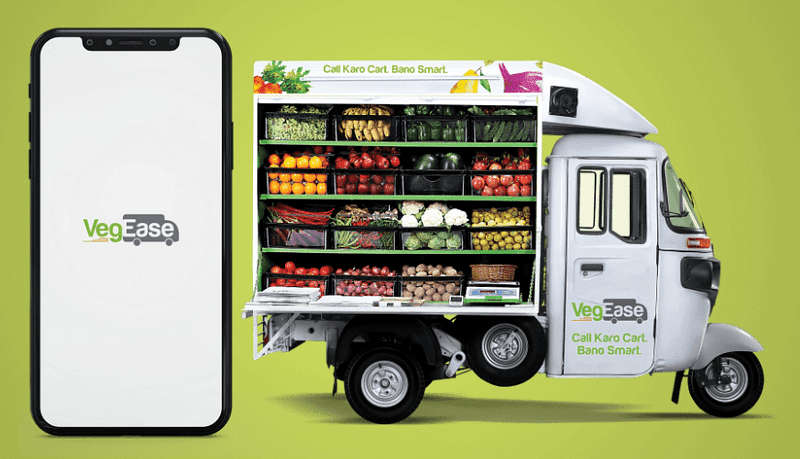 They do just what they will do in a typical mandi, but from the comfort of their own homes. "We're keeping the old thela tradition alive, but in a new package," Mayank says.
He goes on to clarify the need for such a service, saying,
Furthermore, VegEase seeks to address the issue of differential pricing across neighbourhoods and localities by providing premium goods at standardised rates.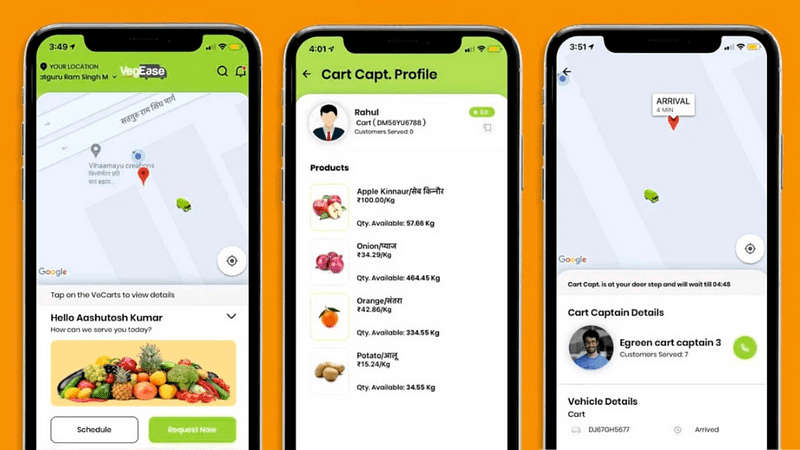 Early expansion and activities
VegEase is currently available in Delhi and Gurugram, and will expand to other northern cities by May. By the end of the year, the startup hopes to have a pan-India footprint (20 metros and Tier 1 cities).
It currently has 100 or so working vans (carts) and plans to increase that number to 1,800 to 2,000 by December as it expands into new cities. Each van is run by a cart captain (VegEase's own delivery fleet), who can be reached through the app.
In less than three months, the bootstrapped company claims to have amassed a user base of over 5,000. It processes over 200 orders per month, with an average ticket size of Rs 400-500, and aims to generate Rs 200 crore in revenue from 1.5 lakh customers by March 2022.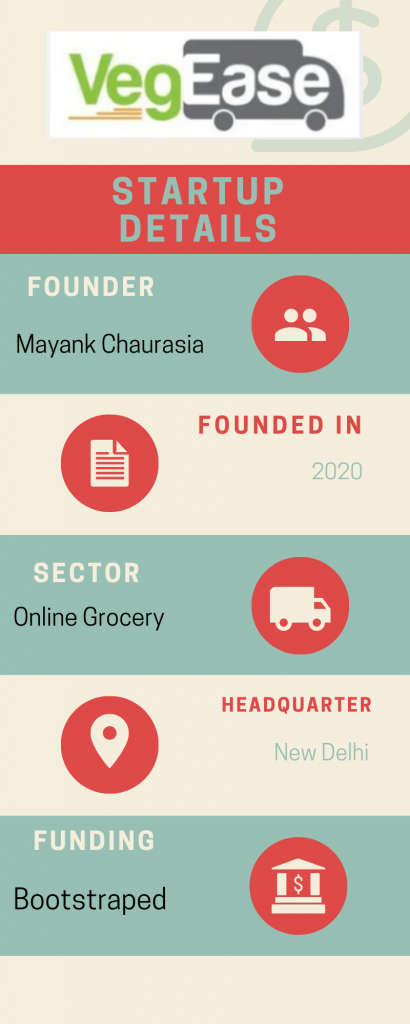 VegEase has also built two warehouses of 90,000 square feet each in Delhi and Gurugram, with a third expected to open soon.
The startup sources its goods directly from FPOs and farmers across the world. Although leafy vegetables and fruits are sourced daily, less perishable products such as potatoes and onions are stored in warehouses for longer periods of time. VegEase also offers unusual vegetables such as cabbage, broccoli, and zucchini.
According to Arpit Katta, CFO of VegEase,
"When consumers see a cart full of fresh fruits and vegetables at their door or inside their apartment complex, they often end up buying more," Arpit adds.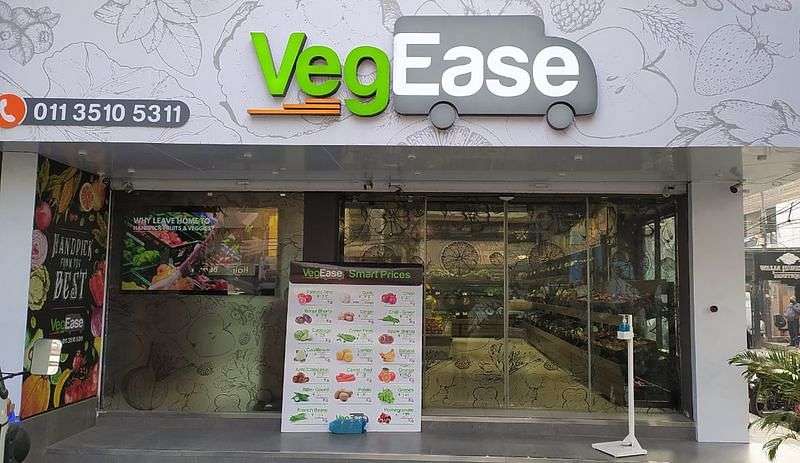 Future plans and the market landscape
VegEase is only in its early stages in a highly competitive retail market. According to RedSeer, online grocery is expected to be a $18 billion industry in India by 2024. Grocery, on the other hand, has the thinnest margins in the industry.
It does not have many domestic counterparts yet, but the service appears to be modelled after FarmDrop in London and CornerShop in Chile.
Also Read: Ultraviolette, an electric bike startup, expects to raise up to $75 million
"We want local grocers and mandi guys to partner with us in the future," the creator says. On average, they have a fleet of five carts, all of which they own. We'll send them the fruits and vegetables, and they'll deliver them to your door."
"The only thing we can not outsource is product quality," he declares.
VegEase is also expanding its hiring around the country.
Currently, 75 percent of its 200-person staff is employed by the organisation.
The startup has invested around Rs 10 crore so far and will seek funding in a year and a half.
"What VegEase is offering is a grocery buying method where touch and feel is the USP," Mayank summarises. That, too, from the comfort and security of your own home."