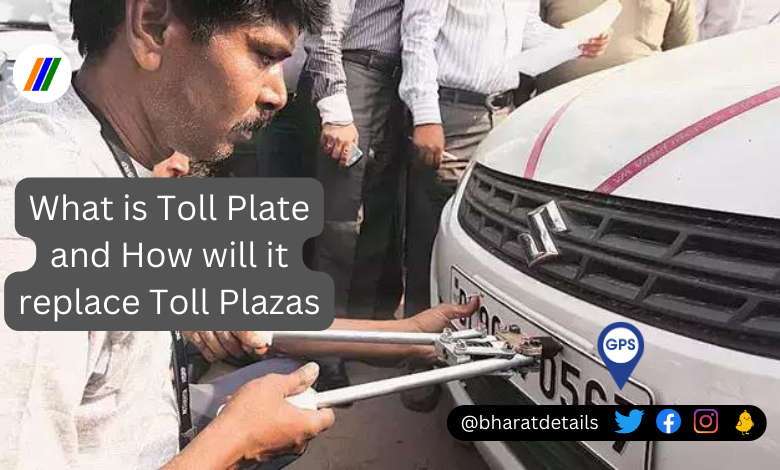 Once again, you will have to upgrade your number plate to a toll plate very soon.
India will have toll plates on all vehicles very soon. Although FASTags has helped to reduce traffic at toll plazas, there are still some delays at toll plazas during peak hours in many cities and areas. The government is working on a project that will help to reduce or eliminate traffic, particularly on highways. The government is planning to replace toll plazas with an automatic number plate recognition system, said Union Minister Nitin Gadkari on Tuesday.
This is the most advanced system to date because vehicle owners will not need to stop at toll plazas and toll plaza fees will be deducted directly from their bank accounts. 
At present, the technology of an automatic number plate recognition system is under test and trial, and it is said that once the technology is ready for implementation, this will replace toll plazas.
According to the road transport and highways minister, after the introduction of FASTags, the toll income of the state-owned National Highways Authority of India (NHAI) has increased by ₹15,000 crore per year.Furthermore, he stated that after the implementation of this technology of automatic number plate recognition, there will be no toll plazas.
Previously, in the years 2018–2019, the average waiting time for every vehicle at a toll plaza was up to 8 minutes, which has been reduced to 47 seconds after the introduction of FASTags in 2020 and later. The reduced waiting time at toll plazas is truly appreciable after the introduction of FASTags. But still, we can see some traffic at toll plazas in highly populated cities during peak hours.
How will this New Technology (Automatic Number Plate Recognition System) work?
This new technology will directly link the number plate to the satellite. And with the help of a GPS that will be installed in a car, the toll amount will be deducted from the owner's account. Which means no more waiting in lines at toll plazas; the amount will get directly deducted from the owner's account with the help of GPS-based automated number plate readers.
Will you have to replace your current number plate with the new one?
Answer is Yes. As the Government of India is continuously trying to complete the tests and trials and get this technology ready for installation, the manufacturers will have to install this advanced number plate in all new vehicles. The old number plates will have to be replaced with the new toll plate, which will have a GPS system and software attached that will be used to deduct the toll amount directly from the owner's account.