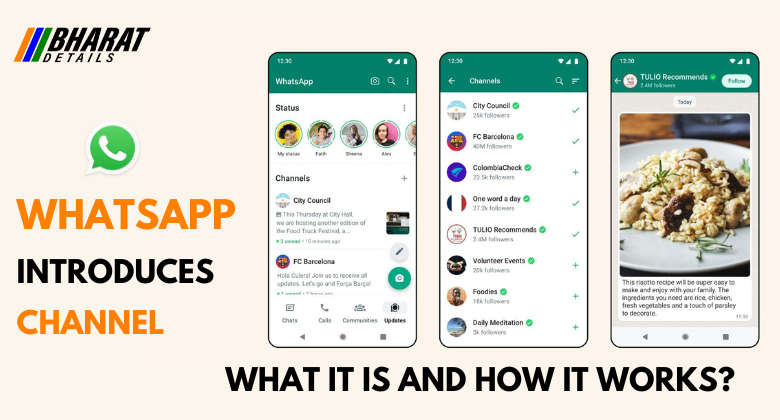 WhatsApp has recently unveiled a fresh addition known as Channels, and in this article, we will provide you with a comprehensive understanding of this innovative feature. Delve into the details to grasp the purpose of Channels and gain insights into its functionality. Stay informed about WhatsApp's latest offering and learn how it operates.
WhatsApp has recently launched an innovative feature called Channels, offering immense utility for business owners and content creators who utilize the platform for marketing purposes. With the introduction of a dedicated tab called "Updates," users can conveniently access content from the Channels they choose to follow. This separate tab ensures a clear distinction between personal chats with family, friends, and communities. In this comprehensive guide, we will walk you through all the essential information you need to know about WhatsApp's latest feature and provide detailed instructions on how to make the most of it.
WhatsApp introduces Channels
In an enthusiastic blog post, WhatsApp has introduced their latest feature called Channels, which promises a simple, reliable, and private way to stay updated with important information from individuals and organizations. Channels will be housed in a dedicated tab called "Updates," providing a separate space for Status updates and the channels users choose to follow, distinct from their personal chats with family, friends, and communities.
According to WhatsApp, Channels serve as a one-way broadcast tool for admins, enabling them to share various types of content such as text, photos, videos, stickers, and polls. Additionally, the company is developing a separate directory that allows users to explore and discover channels based on their interests. Whether it's hobbies, favorite sports teams, or updates from local officials, users will have access to a diverse range of channels.
Notably, the directory isn't the sole method of subscribing to a channel. WhatsApp users can also join a channel through invite links shared in chats, emails, or posted online, expanding the accessibility and reach of this new feature.
Prioritizing Privacy Concerns
WhatsApp has taken users' privacy concerns into careful consideration while introducing this new feature. Recognizing that individuals may worry about their phone numbers being accessible to strangers who subscribe to the same channel, the company has made addressing privacy concerns a top priority.
To address these concerns, WhatsApp has expressed its commitment to creating the most secure and private broadcast service available today. The company emphasizes the protection of personal information for both channel admins and followers. Admins can rest assured that their phone numbers and profile photos will not be revealed to followers. Similarly, followers can take comfort in knowing that their phone numbers will not be disclosed to admins or other followers. WhatsApp firmly believes that the decision of whom to follow should remain private and solely within the users' control.
In line with their messaging philosophy, WhatsApp believes that channel updates should not be retained indefinitely. Consequently, the company will only store channel history on their servers for a maximum of 30 days. Furthermore, they will implement additional measures to ensure that updates disappear even faster from followers' devices. Admins will also have the option to prevent screenshots and forwards from their channel, offering an added layer of privacy protection.
Flexibility and Control for Channel Admins
WhatsApp has empowered channel admins with the ability to determine who can follow their channels, allowing them to maintain control over their audience. Furthermore, admins have the choice to make their channels discoverable in the directory or keep them hidden, offering a customizable approach to visibility.
While end-to-end encryption is not currently enabled by default for channels, WhatsApp has clarified that this decision is driven by the goal of reaching a broad audience. However, the company acknowledges the potential need for limited-audience end-to-end encrypted channels in specific cases, such as non-profit organizations or health-related institutions. WhatsApp is actively exploring this possibility as a future option, demonstrating their commitment to continuously enhancing privacy features.
By providing admins with these choices and considering the potential for end-to-end encryption in specific contexts, WhatsApp strives to strike a balance between reaching a wide audience and accommodating specialized requirements for certain organizations.
Also read ⬇️
Availability and Usage Guide
Initially, the Channels feature will be launched in Colombia and Singapore, with plans for a gradual expansion to additional countries in the following months. As previously mentioned, admins will be equipped with the ability to send broadcast messages and maintain control over their audience.
For users, accessing their preferred channels is a straightforward process. They can conveniently browse through the directory to discover and follow their favorite channels, ensuring they receive regular updates. Additionally, users have the option to join channels through invite links shared via chats, email, or posted online, expanding the means of connecting with desired channels.