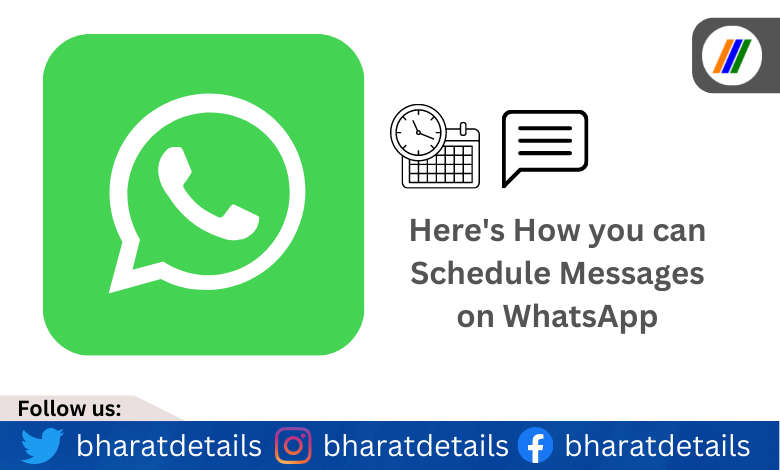 Schedule Messages on WhatsApp is undoubtedly going to help users a lot. WhatsApp is the most commonly used messaging app. WhatsApp is build with wide range of features / functionalities that allows users to enhance and simplify experience. Users are eagerly waiting for WhatsApp to add Scheduling Messages feature.
In reality, WhatsApp has no such official feature for scheduling messages, but there are some third party application that can allow you to schedule messages on WhatsApp. Schedule messages here simply means, you can draft a message which will be automatically sent at a particular time you choose. It is pretty much helpful as many a times it happens we prefer not to send message immediately, instead you want to send message after sometime.
Sometime you may forget the message you wanted to send at a particular time like birthday or anniversary wishes, WhatsApp Schedule a message can save you from such scenarios.
Q. Can you schedule messages on WhatsApp?
A. Yes, you can but for that you will have to use third party app as WhatsApp has no such feature in it.
How can you schedule messages on WhatsApp? – Android
Go to Google Playstore and Search for SKEDit app and install.
After installing, you will have to fill in the required details to sign up.
Now select WhatsApp app from app menu.
Grant accessibility permissions in phone settings
Enable Accessibility > SKEDit > Toggle on Service > Grant Allow.
After completing return back to app.
Now to schedule a message on WhatsApp, add recipient's name, enter message details and schedule a date and time. You can even set the message frequency to daily, weekly and monthly.
Don't forget to select "Ask me before sending", if you want to be notified.
How can you schedule messages on WhatsApp? – iPhone
Go to Apple App Store and Search for SKEDit app and install.
Open the app and click on the Automation button.
Press + icon and then select 'create personal automation' option.
After creating personal automation, select the 'time of day' to schedule your automation.
Select date and time to send the WhatsApp messages.
Choose 'Add Action', and search for Text and fill in the text message you want to schedule.
Select send message through WhatsApp and then select the recipient name.
You will be notified by the app when the time the message is scheduled. After clicking the notification, you will find yourself in the scheduled campaign message window and then you can click 'Send'.
Also read:

Twitter Starts Rolling Out Twitter Blue Of $8 With Several Features. | BHARAT DETAILS

Explained: How WhatsApp Can Also Be Used To Download PAN Card, Driving License, RC Instantly Via Digilocker? | BHARAT DETAILS